Brain activation during simple and complex walking
Healthy and post-stroke (stroke greater than 6 month ago) adults are invited to take part in a study undertaken by the University of British Columbia, in conjunction with the GF Strong Rehab Centre. This study will examine the brain activity associated with walking.
What will I have to do?
We will place a cap on your head that contains near-infrared light emitting diodes and non-invasive recorders (NIRS). You will complete approximately 40, one-minute bouts of standing and walking trials. The study will involve: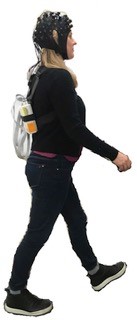 -Screening phone call to ensure you are eligible for the study (~15 minutes)
-2-day visit (~2 hours each visit) at GF Strong Rehab Centre
-An MRI scan (30 minutes) at BC Children's Hospital.
TOTAL: 5 hours maximum
What are the benefits to the study?
This information will help us determine the how brain function is affected during standing and walking after a stroke and may help inform future treatments for walking.
You are eligible to participate in this study if you:
-Are 19 years of age or older
-Able to stand and walk independently for multiple 1 minute bouts (total 50 minutes)
-Do not have any unstable cardiovascular status, significant lower extremity musculo-skeletal or neurological conditions (other than stroke for post-stroke individuals), or expressive or receptive aphasia
For more information or to participate in this study, contact: Shannon Lim at GF Strong Rehab Centre
ph: 604-714-4117 
e-mail: shannon.lim@alumni.ubc.ca
Principal Investigator: 
Dr. Janice J Eng, PhD, PT/OT, Professor, Department of Physical Therapy, UBC, GF Strong Rehab Centre, 4255 Laurel Street, Vancouver, B.C. V5Z 2G9